Do you want to experience the ultimate relaxation, but don't want to pay for expensive store-bought massage oils? Then why not make your own warm massage oil at home? With just a few simple ingredients and a few minutes, you can create a luxurious massage oil that will help ease your tension and provide a soothing, therapeutic massage. In this article, we'll show you how to make your own warm massage oil, so you can enjoy a tranquil massage experience any time you want.
Benefits of Making Your Own Warm Massage Oil
Customized Ingredients: Making your own warm massage oil is beneficial as you can choose the ingredients that you think will work best for your body. This will ensure that you get the exact massage oil that you need and that suits your body.
No Allergens: By making your own warm massage oil, you can make sure that the oil is free of any allergens that you might be sensitive or allergic to. This will help you have a pleasant and safe massage experience.
Affordable: Making your own warm massage oil is much more affordable than buying ready-made massage oils from the store. You can save money by using cheaper ingredients and make more of the oil for a fraction of the cost.
No Preservatives: When you make your own massage oil, you will know that it does not contain any preservatives or other potentially harmful ingredients. This will make your massage oil a much healthier option for your body.
Soothing: Making your own massage oil can help make the massage experience more soothing. You can customize the oil to make it as warm or as cool as you would like. This will help you relax and enjoy your massage more.
Better Quality: Making your own warm massage oil will help you achieve a much better quality product. This will help you reap the full benefits of the massage and make it a more enjoyable experience.
Making your own warm massage oil is a great way to enjoy a relaxing massage experience. By following the simple steps on how to make warming massage oil, you can make your own massage oil that is customized to your needs and will be of the highest quality.
Necessary Ingredients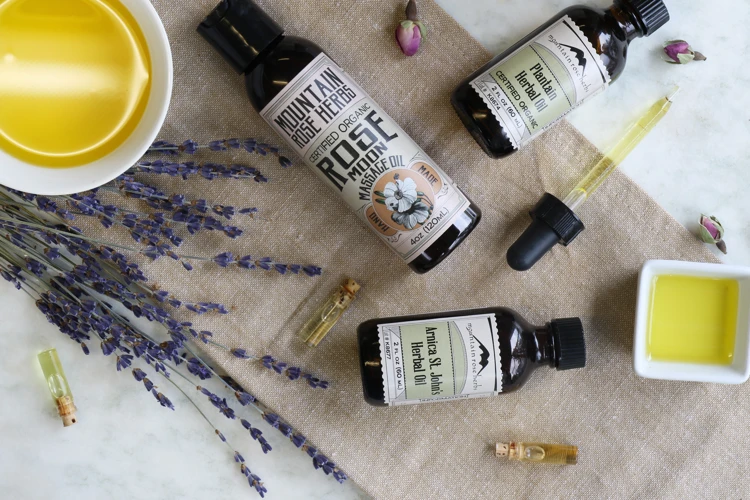 Base Oils
Base oils provide the foundation for your massage oil and are typically composed of sweet almond oil, jojoba oil, grapeseed oil, or coconut oil. These oils provide the skin with nourishment and lubrication.
Essential Oils
Essential oils are added to the base oils to provide a soothing, relaxing scent. Popular choices include lavender, sandalwood, chamomile, and jasmine.
Warm-Up Agents
For a warm massage, you will need to add a warming agent to the mixture. Popular choices include cayenne pepper, ginger, and cinnamon. These ingredients cause a warm, tingling sensation on the skin.
Equipment Needed
Empty bottle: preferably one with a pump or dropper lid.
Carrier oil: such as almond, apricot, coconut, jojoba, or olive oil.
Essential oils: such as lavender, chamomile, eucalyptus, or any other desired aroma.
Small bowls: for measuring and mixing.
Spoon: for stirring.
Directions
Heating the Base Oils
Heat 2/3 cup of fractionated coconut oil and 1/3 cup of jojoba oil in a double boiler. Stir the oils continuously until they reach a temperature of about 120 degrees Fahrenheit.
Adding Essential Oils
Once the base oils reach the desired temperature, turn the heat off and add 20 drops of your favorite essential oils for their therapeutic benefits.
Adding Warm-Up Agents
Add a small pinch of cayenne pepper and a few drops of warming essential oils such as cinnamon or ginger. Stir the mixture and then let it cool.
Storing the Massage Oil
Once you have created your massage oil, it is important to store it correctly to keep it in optimal condition. To do this, store the oil in a cool, dark place. Make sure to use a dark-colored bottle to prevent sunlight from affecting the oil. Additionally, you can place the bottle in an airtight container to keep it free from dust and other contaminants. Lastly, remember to label the bottle and include an expiration date as most massage oils will lose their effectiveness over time. Be sure to discard any oil that has gone past its expiration date.
Safety Tips
Always use a carrier oil such as olive or coconut oil as the base for your massage oil.
Avoid using essential oils on broken, irritated, or sensitive skin.
Keep the massage oil in a cool, dry place away from direct sunlight.
Do not use oils with known skin irritants such as cinnamon or peppermint.
Be aware of any allergies or sensitivities to certain ingredients before using them.
Always dilute essential oils before using them on the skin. Use the proper dilution ratio.
Do not use oil on the face unless you are using a specifically formulated facial massage oil.
Always do a patch test on a small area of skin before using a massage oil on a larger area of skin.
If you experience any irritation or discomfort, discontinue use immediately.
Frequently Asked Questions
What Type of Oils are Best to Use for a Massage Oil?
When making your own massage oil, it is important to choose the right oils for the desired effect. For a relaxing massage, the best oils to use are lavender, chamomile, rosemary, and eucalyptus. These oils are known to have calming, soothing properties. Other beneficial oils such as coconut and almond oil can also be added for a nourishing effect. To ensure safety, always use natural, pure, and organic oils.
Are There Any Special Ingredients I Should Avoid When Making My Own Massage Oil?
When making your own massage oil, it is important to avoid using any ingredients that may cause an allergic reaction or skin irritation. Avoid essential oils such as cinnamon, clove, oregano, and thyme, as well as oils that are known to cause skin irritation such as peppermint and tea tree oil. Additionally, avoid any oils that may have a strong scent, as this can be overpowering during a massage.
What Temperature Should I Heat the Oil To?
When making your own massage oil, it is important to heat the oil to the correct temperature to ensure it is not too hot for the skin. Generally, you should heat the oil to between 90°F and 110°F (32°C and 43°C). To measure the temperature accurately, it is best to use a thermometer. Always be careful not to overheat the oil, as this can cause skin irritation or burning.
How long should I massage with the massage oil?
Short Massage: If you are looking for a short massage, you can use your massage oil for 10-15 minutes. This will provide you with a relaxing experience and can help soothe any aches and pains.
Longer Massage: If you are looking for a longer massage, you can use your massage oil for up to 30 minutes. This will provide a deeper, more intense massage experience and can help to relax the muscles and improve blood flow.
Tips:
Be sure to start with a light touch and gradually increase the pressure as you massage.
Don't forget to use gentle circular motions as you massage.
If you are using a massage tool, such as a roller or massage ball, be sure to use it in combination with the massage oil.
Try to keep the massage oil warm throughout your massage by using a heated pad or hot towel.
Be sure to stop if you feel any discomfort or pain.
What other ingredients can I add to the massage oil for scent and other benefits?
Essential oils are a great addition to massage oil as they provide a pleasant scent, as well as possible therapeutic benefits. Lavender, chamomile, and rosemary essential oils are particularly popular for relaxation and stress relief. Additionally, adding natural oils like almond, jojoba, or coconut oil can help to nourish the skin and improve the texture of the massage oil. Finally, adding vitamin E oil can help to keep the massage oil from going rancid.
Conclusion
Creating your own massage oil is a great way to relax and indulge in the benefits of aromatherapy. With a few simple ingredients, you can make a warm massage oil that is perfect for relaxation and stress relief. Enjoy the calming aromas, the nourishing oils, and the soothing warmth of your homemade massage oil.
References