Are you into strength training seeking to develop better body mechanics? Or do you prefer to do cardio day in, day out? Either way, without proper percussive therapy to summarize your workout routine, getting sore muscles is inevitable. To ensure that your body can fully recover before the next exercise session, you need an efficient and reliable percussive massage gun. In this post, I will dive deep into the best massage gun for runners and give you my ten best picks in the entry-level category.
Product
Top Pick
Runner-Up
Premium Choice
Title
TOLOCO Massage Gun Deep Tissue, Back Massage Gun...
Flyby Massage Gun Deep Tissue - Percussion Muscle...
Mebak 3 Massage Gun, Massage Gun Deep Tissue for...
Pros
Lightweight and well-balanced
Top Pick
Product
Title
TOLOCO Massage Gun Deep Tissue, Back Massage Gun...
Runner-Up
Product
Title
Flyby Massage Gun Deep Tissue - Percussion Muscle...
Pros
Lightweight and well-balanced
Premium Choice
Product
Title
Mebak 3 Massage Gun, Massage Gun Deep Tissue for...
10 Best Massage Gun for Runners Reviewed
If you are looking to buy a sleek and functional massage gun for runners, this post with the top-10 best budget models is sure to come in handy.
1. Toloco EM26 Massage Gun – Ultimately the Best Massage Gun for Runners in 2022
Specifications:
Power Source: Battery Powered
Material: Silicone
Brand: TOLOCO
Color: Black, Carbon, Grey, Silver
Product Benefits: Muscle Fatigue,Deep Tissue,Blood Circulation
My pick of Toloco Massage Gun EM26 will hardly come as a surprise as almost everyone in the fitness business is either already using it or is planning to buy the device soon. If running is a hobby you have recently picked up and are now looking for proper gear to go with it, I strongly recommend you pay attention to Toloco EM26. It's a budget massage gun that packs some truly outstanding features.
The EM26 model is a full-sized, T-shaped massage gun, pretty sleek-looking and ergonomically friendly. The touch controls are responsive to the tactile input, and the overall setup is more versatile than in most similar devices. All the ten attachments that come with Toloco Massage Gun EM26 are well-built and practical, although I prefer to stick to the four most basic ones, as the rest feel more or less repetitive.
This model is lighter than its older counterparts and feels more balanced. Compared to my old T11, the gun is more compact, thanks to the slightly shorter rubbered hand. This Toloco gun is strong enough, and there is enough stall force (35lbs) to give me a nice massage even if I press too hard. At higher gears, it is not as powerful as the competition, but at mid-range speeds, it is unrivaled.
PROS:
Affordable;
Lightweight and compact;
Adequate stall force;
Solid build and ergonomic design.
CONS:
The model performs on the weaker side at higher speeds.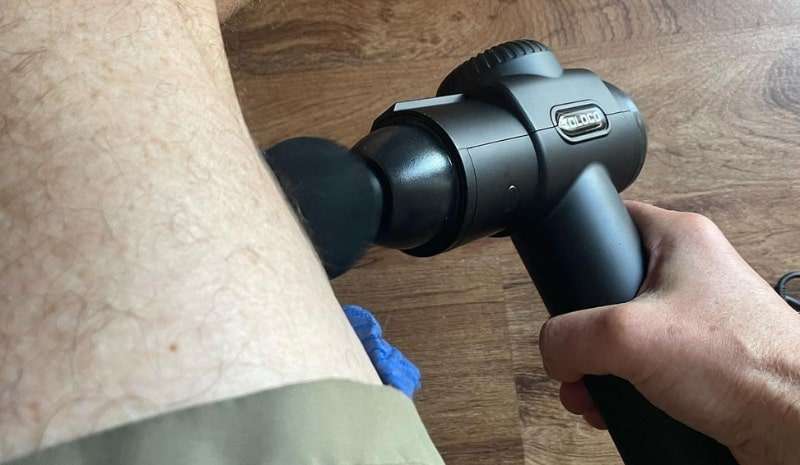 2. Flyby F1Pro Massage Gun – Best Budget Running Massage Gun for Personal Use
Specifications:
Use for: Whole Body
Power Source: Battery Powered
Material: Percussive Therapy
Brand: Flyby
Color: Black, Grey
My runner-up for the top-10 best entry-level massage guns of 2022 is Flyby F1Pro. After some thorough hands-on testing, I can honestly say it is one of the best budget massagers out there. With up to 3,200 vibrations per minute, it truly works magic in soothing chronic neck pain. It is even advertised as capable of breaking up scar tissue, although, after 1.5 months of regular use, I did not find any proof of that. Scars aside, this massage gun is a solid pick, affordable but efficient.
The percussion gun comes with six unique attachments – some are great for giving you soft massages, and others are capable of packing a nice punch when needed. One thing I did not like about the attachments is that the ball heads are made of foam, which does not promise you much in terms of longevity. Also, the charger is not USB-C type, but that is something expected of budget massagers.
The model is light, well-balanced, and offers a good grip. The T-shape isn't perfect for long massages but should be enough for a quick pain-relieving session. The Flyby Massage Gun build has acceptable quality, and its button controls are easy to use. The amplitude was disappointing, but a nice progressive stall force compensated for it. In all, I find my experience with Flyby F1Pro to be quite positive.
PROS:
Impressive battery performance;
Good stall force;
Lightweight and well-balanced;
Low noise operation.
CONS:
No LED screen, no USB-C charging;
Just three speeds are available.
3. Mebak 3 Massage Gun – Best Entry-Level Massage Gun for Women and Elderly Users
Specifications:
Use for: Whole Body
Power Source: Battery Powered
Material: Plastic
Brand: Mebak
Color: Dark Gray, Black
When it became available in 2019, I purchased Mebak 3 Massage Gun as a birthday present for my cousin to use after her workouts. And, of course, I couldn't help giving it a little test run myself.
This budget-priced model has seven different attachments and boasts some pretty cool specs. Mebak's powerful and quiet full-sized massager will hit the sweet spot with women and aging users. Mebak 3 feels light, well-balanced, and maneuverable. The touch controls are responsive, and switching between the five speeds is a breeze.
The manufacturer promises a 12mm amplitude, but I think it is more like 10.5mm, which isn't a big deal unless you are paying to get a device capable of performing a deep-tissue pro-grade massage. If you don't know the difference between vibrations and deep percussions, this one will please you just fine.
The best thing about Mebak 3 is that it does not stall easily, even when used on first gear. I'd say the gun can withstand around 40lbs at the highest speed (the manufacturer promises over 55lbs). It is still impressive and should be sufficient for a regular user. Another nice touch in Mebak 3 is the pressure level indicator, which helps if you want the pressure you apply to stay consistent throughout the session.
PROS:
Lightweight and quiet;
Pressure level indicator;
Impressive battery life;
The auto-shutoff feature;
Allowed for use while charging;
Solid stall force.
CONS:
The amplitude does not live up to the promised 12mm, meaning it is a vibrational rather than a percussive gun;
A bit more expensive than the above budget options.
4. Renpho R3 Massage Gun – The Most Beginner-Friendly Massager for Day-to-Day and Occasional Use
Specifications:
Power Source: Battery Powered
Material: Metal
Item Weight: 13.5 Kilograms
Brand: RENPHO
Color: Black, Blue, Silver
My history with the Renpho brand involved a Shiatsu foot massager, which was quite an exciting experience, but that is a story for another time. Here, I want to talk about their newest massager – Renpho R3 Massage Gun – a model that offers great specs for a sensible price. Some call it a mini because of its compact size and travel-friendly weight. Hard-working and reliable consumer-grade product, it gives you just a perfect amount of push and pressure at the points where you need it most.
It is a sleek, robust, and well-designed tool. Due to its single-button operation, Renpho R3 should be a good match for new users who do not want things to get tricky. The gun has an amplitude of just 10mm but provides enough power to give you an adequately relaxing massage. With five different speed settings, the device has a stall force of about 25-30lbs, not top-power but not the weakest either.
Hardly the best, Renpho R3 is nevertheless a solid option for entry-level users who want an effective massage gun that is quiet, affordable, and offers a good value.
PROS:
Compact and lightweight;
Silent operation;
Superb ergonomics;
Decent battery life.
CONS:
The amplitude tops out at 10mm;
Insufficient stall force.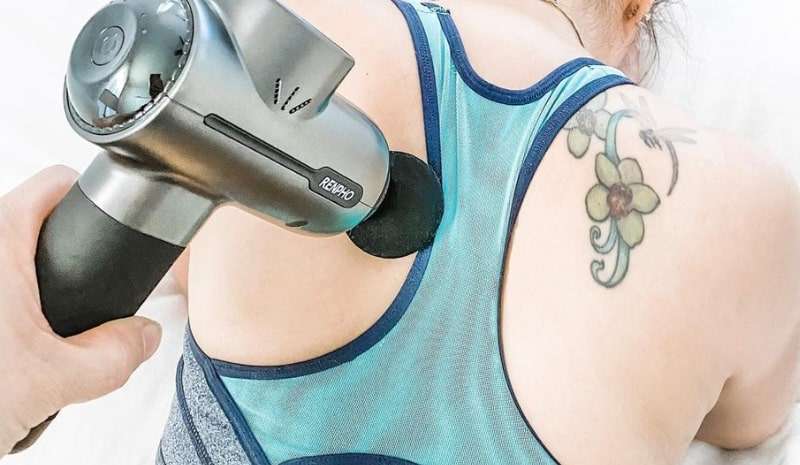 5. Bob and Brad C2 Massage Gun – Best Portable Massager for On-the-Go Use
Specifications:
Use for: Whole Body
Power Source: Handheld,Electric
Material: Plastic
Brand: BOB AND BRAD
Color: Black
I was unfamiliar with the brand until a good friend asked me to test the C2 model he was planning to buy for his wife. And so I did. Long story short, Bob and Brad C2 Massage Gun is a nice piece of equipment that packs a powerful punch for its price. It is not better than the top-3 massagers on this list, but it is not rubbish either. Lightweight and portable, this sleek massage gun can accompany you on your trips as it easily fits into every luggage and is sturdy enough to withstand any traveling conditions.
The gun includes 5 most typical go-to attachments. While there are massagers with more accessories, these five should be enough to work every part of your aching body properly. They did a great job with the handle by making it oval rather than round – not much, but it feels handier and easy to maneuver.
As for the amplitude, the device offers only standard performance – 8-9mm. That means you can't expect it to work miracles for you if you are a professional athlete or a bodybuilder. However, for someone who needs help relaxing tight muscles after an occasional workout, this one is it.
With its single-button operation, you shouldn't have difficulty switching between its five speeds and won't have to spend much time finding the right setting. The battery will last about 3-4 hours, depending on how intensely you use it.
PROS:
Compact size;
Good battery capacity;
Sleek and sturdy;
Best massage gun for achilles tendonitis issues.
CONS:
Low stroke length and average stall force.
6. DARKIRON EM31 Massage Gun – Most Robust Massager With Best Features for New Users
Specifications:
Power Source: Battery Powered
Material: Silicone
Brand: DARKIRON
Color: Black
Item Dimensions LxWxH: 12.99 x 3.94 x 9.61 inches
This one comes highly recommended by some of my colleagues who use it as their go-to everyday massager for non-complex issues. While I am not as enthusiastic as many, after trying this gun a few times, I'd say there is nothing really disappointing about it. If your budget is tight, but you still want a functional and reliable massage gun, this entry-level Darkiron model should do the job just fine.
Darkiron EM31 Massage Gun boasts some specs I disagree with, like that 16mm amplitude that feels closer to 10mm, making this massager vibrational rather than percussive. The whopping 15 attachments is an excellent marketing catch, but the odds are you will just be using the main five, which means the rest is there for show.
The Darkiron EM31 offers an average stall force of 30lbs, which isn't much but will suffice for the stated purpose. The battery lasts long but not the 6-hour kind long the manufacturer claims. I appreciate the auto-shutoff feature because safety and energy efficiency always come first.
PROS:
An assortment of 15 attachments;
Nice battery capacity;
Interesting and well-thought-out design;
The auto-shutoff feature.
CONS:
Heavyweight and noisy;
Not always true to its advertised specs.
7. Theragun Prime Massage Gun – Best Gun for Semi-Intensive Massages
Specifications:
Use for: Hands
Power Source: Battery Powered
Item Weight: 1.4 Kilograms
Brand: TheraGun
Color: Black
Theragun is the name that inspires trust, so when I first started using its Prime model, I fully expected it to be the quintessence of efficiency, power, and style – all packed in a compact and lightweight shell. I cannot say I was disappointed with this fourth generation of Theragun devices, but given its price, I honestly expected more.
I want to point out that this entry-level, full-sized Theragun for runners comes without a carrying case despite its hefty price tag. While the familiar triangular shape offers enhanced ergonomics in terms of gripping, there is no rubberized handle here, even though that is something found in many less expensive models.
The manufacturer calls its device build 'simplified,' and that also goes for its design – plain and unexciting matte black rid of any glamour. No OLED screen here either, just old-fashioned buttons and arrows to turn it on/off and switch between the five speeds. There are just four rubber Theragun-unique attachments, but all are useful and nicely secured.
While it is on the smaller end of the Theragun models spectrum, the Prime product feels rather heavy, and exploiting it for a long time might be tiring. Theragun Prime has the longest amplitude in the market – 16mm; however, with the progressive stall force capped at 30lbs, I'd say it feels a bit like a waste of power.
PROS:
The gun has a great app;
Good build quality;
High stroke length.
8. Toloco TO-M63 Massage Gun – Best Budget Massage Gun for Battery Life
Specifications:
Power Source: Handheld
Material: Silicone
Brand: TOLOCO
Color: Carbon Black
Product Benefits: Muscle Fatigue,Deep Tissue,Blood Circulation
I will be curt here: Toloco TO-M63 is a reliable and powerful model, comparable to the newer EM26 device with the same whopping number of attachments (10) and the same 12mm amplitude. The only crucial difference is the number of speeds to choose from: while my #1 pick – Toloco EM26 – has 20, the older TO-M63 model can only boast four.
The TO-M63 is a quiet, lightweight, and compact model, well-built and nicely balanced. The LED screen will tell you everything you need to know about how your massage session is going. The device will last you over 4 hours on a single charge.
PROS:
Ergonomic design;
Lightweight and compact;
Powerful.
CONS:
It can't be used while charging.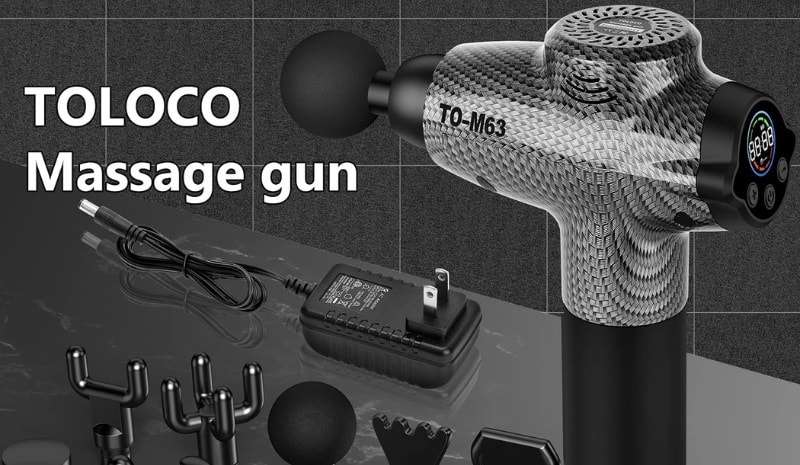 9. Theragun Elite Massage Gun – Most Functional and Innovative Device in the Upper Price Segment
Specifications:
Power Source: Battery Powered
Material: Oled
Item Weight: 1 Kilograms
Brand: TheraGun
Color: Black, White
Theragun is a company that seeks to improve on perfection, and its Elite Massage Gun is a good example. If you are surprised why this fourth-generation product with plenty of robust features lands only ninth on my list, here is an explanation: with the price tag being what it is, the massager is still very much an entry-level product, not fully capable of giving you that deep-to-the-bone percussive massage you have been craving.
The device has a recognizable triangular shape with the multiple grips option. It is stylish and elegant, with smooth or rubberized plastic. Although, I must say the shiny parts attract fingerprints just a little too much. Equipped with an OLED display, it shows you speeds, applied force, and battery level.
As for the performance: the standard amplitude for all Theragun massagers (except for Mini) is 16mm – the longest stroke length there is. Accompanied by the impressive 40lbs stall force, it can give you a nice punch.
PROS:
Excellent stroke length;
Sufficient stall force;
Sleek and ergonomic.
10. Hypervolt Plus Massage Gun – Best Theragun Alternative Sans the Unique Triangular Shape
Specifications:
Power Source: Handheld,Battery Powered
Brand: Hyperice
Item Dimensions LxWxH: 11.3 x 6.8 x 8.7 inches
Is Cordless?: Yes
Not my favorite massage gun ever, Hypervolt Plus is still a solid and well-balanced post-workout recovery tool that can be a correct fit for not-so-demanding users new to percussive therapy.
Hypervolt Plus is a sturdy T-shaped massage gun with a rubberized handle for a more comfortable grip. Despite its basic configuration, the device is sleek on the outside and quite powerful inside. The five attachments can work at three speeds – while not excessive, it should be enough for a regular user.
The device performance seems to have been improved compared to the older models of the series. Hypervolt Plus has a 14mm amplitude, which allows it to punch deep into the muscle tissue; the stall force of the massager is nothing to complain about either – 45-50lbs is more than enough for a nice, therapeutically percussive massage.
PROS:
Excellent stall force;
Good stroke length;
Great build quality.
Massage Gun for Runners: Buying Guide
Runners are always looking for ways to improve their performance. A new generation of massage guns has recently hit the market, claiming to help runners recover faster and improve their performance. But do they actually work and which one to choose? This buying guide will help you to answer most of your questions.
Speed
If you're a runner, you know how important it is to keep your muscles in tip-top shape. That's why a massage gun can be such a valuable tool in your recovery arsenal. Massage guns help to speed up muscle recovery by increasing blood flow and breaking up knots and adhesions.
The first thing to consider when purchasing a massage gun is the vibration speed. You'll want to make sure that the gun has different speed settings so that you can adjust it to your needs. A higher speed setting will be more intense and may be better for breaking up knots and working out deep tissue pain. A lower speed setting will be gentler and may be better for relaxation.
Power
Power is also an important consideration. A massage gun with more power will be able to penetrate deeper into the muscle tissue. If you're looking for a massage gun to use on a regular basis, you'll want one with at least 100 watts of power.
When people are talking about power, they usually refer to two things: the speed at which the head oscillates and the amplitude with which the head moves. Some people like a gentle massage, while others prefer a truly powerful one.
The majority of products on the market have from 2 to 5 different speeds, and their amplitude can range from 2-3 mm up to as much as 16 mm.
Noise Level
When using a device that has an electrical motor, it will inevitably generate some noise. This is an important factor to consider since you don't want your neighbors to think that you're doing construction work every time you decide to use your massager.
The quietest units will not produce more than 50 decibels of noise, which is about as loud as regular speech.
Battery Life
When you're looking for a massage gun, one of the things you'll want to consider is battery life. You don't want to be stuck with a gun that doesn't have enough power to get the job done.
The majority of modern massage guns are equipped with Lithium-ion batteries, which allows them to run for 2-3 hours at maximum speed.
There are a few things that you can do to extend the battery life of your massage gun.
First, make sure that you charge it regularly.
Second, don't use it for more than 30 minutes at a time.
And third, if you're not using it, turn it off.
By following these simple tips, you can make sure that your massage gun will always be ready when you need it.
Quality and Price
When it comes to choosing a massage gun for runners, quality and price are important factors to consider. There are a variety of different brands and models on the market, so it's important to do your research to find the best one for you.
One thing to keep in mind is that cheaper models may not offer the same level of quality as more expensive ones. In general, you get what you pay for when it comes to massage guns. However, that doesn't mean that there aren't any great budget-friendly options out there. It just means that you may have to sacrifice some features in order to save money.
No matter what your budget or needs are, there's a massage gun out there that's perfect for you. Just make sure to do your research before making your final decision.
Anything Else Worth Noting?
Apart from the things listed above, it's important to consider a few other things. Here are some of the extra features that can determine whether you wish to buy one massage gun or another.
Number and Types of Attachments
The types of attachments that you get in the package will determine what body parts you will be able to massage. Most devices come with at least 4 different attachments.
Weight
Since you're going to be holding the massager in your hand during a massage, weight becomes an important factor. If the massager is too heavy, you won't be able to give yourself a massage for longer than a couple of minutes.
The weight of the massager becomes especially important when you're trying to get to some of those hard-to-reach places.
FAQ
Below we have gathered the most common questions that people ask regarding massage guns for runners.
Are Massage Guns Good for Runners?
Massage guns are powerful tools that can help relieve muscle soreness and stiffness. They can also improve blood circulation and increase range of motion. All of these benefits can help you run faster, longer, and with less pain.
When Should Runners Use a Massage Gun?
If you're a runner, you can use a massage gun before your workout to warm up your muscles which greatly reduces the risk of injury. You can also use it after a workout to reduce soreness and promote healing.
What Type of Massage Is Best for Runners?
If you have a massage gun, Achilles tendinitis will be a thing of the past. Just make sure to use lower speeds and massage the area very carefully to prevent your condition from getting worse.
The Perfect Tool For Any Runner
If you're a runner, you know the importance of staying injury-free. That's why incorporating a massage gun into your post-run routine can be a game-changer. Massage guns help to speed up recovery time by increasing blood flow and breaking up knots and adhesions in the muscles.
If you're looking to improve your recovery time, I highly recommend investing in a quality massage gun.
Have you ever tried using a massage gun before or after running? Did it help with the muscle soreness? Tell us in the comment section below.