Everybody with muscles seems now obsessed with massage guns. The indisputable leader of this industry is Therabody, the manufacturer of the famous Theragun. These recognizable devices are now in every massage studio and in the weaponry of many athletes. The strongest of the family is Theragun Pro, the most advanced device for massage and self-massage.
If you decided to get yourself one, chances are you have cast a look at Theragun Pro. Not that it has any weaknesses except for its hefty price. The point of this Theragun Pro review is, though, do you really need all this? The answer is: that maybe it's too advanced, but you definitely won't miss a single feature you might ever need. And if you think you'll need more than a 15-minute self-massage every other day with a generic massage gun, Theragun Pro is worth considering.
Product
Title
TheraGun Pro - Handheld Massage Gun - Athlete...
Product
Title
TheraGun Pro - Handheld Massage Gun - Athlete...
Theragun Pro Review
To see whether it's the device you cannot live without, let's take a quick look at the whole class. And then at the most premium model within it.
What Are Massage Guns?
It's a diamond of a name which produces nearly as strong a vibration as the tool itself. Theragun is a massage gun brand by a namesake manufacturer (recently rebranded as Therabody, as it started selling more health-related devices). The impact of it (pun intended) was so strong that Theragun has to some extent followed Xerox which in some countries became a generic name synonymous with "copier".
What are massage guns for? These are percussive therapy devices that impact your muscles with a series of impacts delivered on high frequencies. For Theragun Pro, for example, the supported range is 1750-2200 RPM. You can literally hear the frequency shift as you change the speed (though aurally, of course, you perceive it as low, as it's about 29-37 Hz). The vibration lets the muscles relax which is helpful for relieving the pain after workouts or other physical activity. Many people use massage guns for relaxation as well.
What Is Theragun?
The company (now known as Therabody) was founded by Dr. Jason Wersland, a chiropractor who decided to develop a new approach after having an accident himself. Like many famous scientists of the past, he used himself as a lab mouse to develop a revolutionary device for massage. It was innovative in terms of both effect and ergonomics. And it started a trend: since 2016, Theragun has been copied by hundreds of manufacturers (many of which simply didn't care about patents).
The original Theragun devices, though, are still on top of it all. The company now offers four modifications most of which share the same design and most functionality but differ in extras. Theragun Pro is the most advanced of them, followed by Elite, Prime, and Mini models.
PROS:
The force is strong with this one
Super-ergonomic design
Fantastic battery life
Fine tuning via a mobile app
Accessories available
CONS:
Quite expensive
For casual use, it's an overkill
Theragun Pro Specs
The massage gun weighs about 2.9 lbs., which makes it feel lightweight. Its dimensions are 10 in x 7.1 in x 3" – not as compact as the Mini version, but on par with other modifications. As for its motor, it's the exclusively created QX150 that provides sufficient force and a tolerably low sound (though at its 65 dB, about the level of a regular conversation, it's far from the least noisy in the class, but it's redeemed by the force it develops). The battery can power it for about 2.5 hours when fully charged.
The frequency range is between 1750 and 2400 RPM. It can be adjusted by the control panel right on the body, and the current speed shows on the display. There's a finer tuning option, though, but we'll talk about it a bit later.
It comes with six replaceable attachments. The default one is a versatile ball, and the rest five are:
Supersoft. This foam attachment is great for sore or sensitive areas (like near joints or bones) where usual massage would feel too rough.
Dampener. In fact, a slightly harder rubber version of Supersoft which is still softer than the default.
Thumb. Recommended for lower back and trigger points.
Cone. Good on feet and hands where muscles are smaller, and bones are all through.
Wedge. Recommended for IT bands and shoulder blades where you need your impact deep and focused.
Should you lose or damage any of them, you can order a replacement one. The price of a replacement is about $20, and if you do need this specific sort of effect delivered by it, the purchase makes sense. As for accessories, sometimes you can get lucky enough to buy them with a wireless charging stand for no extra fee. There are also extra batteries, power adapters, and versatile wireless chargers sold separately.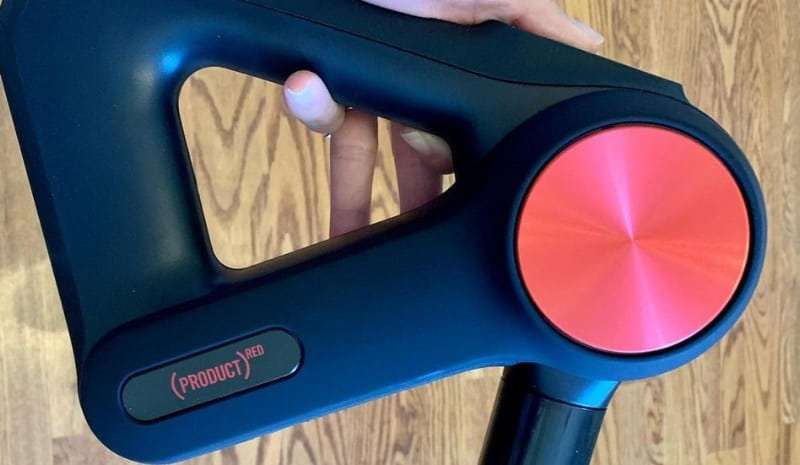 First Impressions, Build Quality and What's Included
Theragun Pro comes with a set of accessories already. In the box, you will find (along with the device) a carrying box, a set of six attachments, two replaceable batteries, and an AC charger. As you take it in your hand, you can't help noticing the quality anti-slip finish. It's plastic but high-quality which feels in every inch of it. The triangular handle is even lighter, except for the battery section which is significantly heavier. Surprisingly it doesn't feel unbalanced.
Remember how lightweight it is? Even if it was a little heavier, though, it would still be comfortable to use, given its design. Unlike cheaper massage guns that look rather like hand drills, this one has a triangular handle that allows for holding it the way you like. There is even more customization, given that its head with an attachment can be adjusted too. So, you can reach most corners of your body with it.
The impact? Serious is the word. The QX150 motor is very, VERY powerful. It delivers up to 60 lbs. force, and you don't have to apply much effort for it to reach deeper. The 16 mm amplitude lets it send its vibration deeper than any rival. As for how it feels, well, it fills all of your body with the vibration, though it remains focused on where you apply it.
By the way, how do you know when and how to apply it? Manuals are great, but Theragun Pro has something better to offer. It comes with a free mobile app available both for iOS and Android which has everything to get you started. Not only does it work as a remote that lets you adjust the speed and see the battery level. It also contains videos and instructions for various routines, so if you feel it's your ankles, your shoulders, or your thighs that need some relaxation, you only need to find the routine for them.
More than that: the app syncs with Google Fit or Apple Fit. Reading the details of your daily activity (if you list your workouts more thoroughly than just recording the number of steps), it steps up with recommendations on what sort of massage you need after your day. Of course, to make the integration more precise, you'll need a fitness tracker or a smartwatch and a workout app that logs your activity in detail. So the device becomes a part of the gadget ensemble rather than a standalone one.
Who Is the Pro Best for Then?
Theragun Pro is more than a toy, and the most serious hint at that is the two batteries it comes with. If you only use it for self-relief for 15-20 minutes a day, and for, well, three more persons for about the same time, then one battery is enough, and if you need a replacement one, you can just order it like you order replacement attachments.
If you are a professional, though, the presence of the second battery makes much more sense. As you keep working for hours with various clients, you just won't have enough time to charge your only battery, and the second one may be necessary every working day. Yes, you can order the third one if you need it. The wireless charger dock is also meant just for this hardcore use case when you only have minutes between seances to recharge the device even for a little.
Well, that's why it's not just any Theragun massage gun but Theragun Pro that got this name. If you compare it with the next best model on the roster, Theragun Elite, among the differences you will discover a built-in non-replaceable battery. It's not a problem for casual home use, but for professionals, replaceable batteries are of unmeasurable importance.
And don't dismiss the adjustable angle. Even if you use it on yourself but want to do it like a pro, this feature will let you bend it so you can reach even the remotest areas on your back. Theragun Elite doesn't offer it either, let alone more affordable models.
So, Theragun Pro is worth buying over other options if you are:
Practicing or aspiring massage professional;
A serious athlete;
Just conscious about your health;
Always opting for the most premium model.
Is Theragun Pro Worth Its Price?
If you set for the best and don't settle for less, it is. The official price of this device is now about $600, and accessories like a charger stand make it even pricier. And, given the abundance of other options (both by Therabody and lesser-known brands), this makes you question the purchase. Many of its exclusive features are designed for power users, and if you're not one, it makes sense considering something less premium, like Theragun Elite, Prime, or even Mini. All of them are much more affordable, down to $199, and perform quite solidly too.
And if you aim to become a massage professional (or you already are), Theragun Pro is definitely worth it. Not only is this a very useful tool with fantastic force, ergonomics, and battery life. It's also a reputational investment: a professional with a premium tool automatically becomes more trustworthy than one with a Chinese replica.
FAQ on Theragun Pro
As any popular device, Theragun massage guns raise many questions that deserve answers. So, to make the picture complete, let's address them.
Is It Worth Buying a Theragun?
This powerful device is for power users. If you only massage your own body, it may be an overkill (unless you're a pro athlete or recovering after some injury or other damage and know exactly how you'll benefit from it). Otherwise, it's worth buying if you also frequently massage, say, your family members.
Can Theragun Cause Damage?
Even a pencil can do damage to the human body. Theragun is a power tool, like any massage gun. So yes, it can do damage when misused or overused.
Can You Use Theragun Everyday?
The short answer is: yes, if moderately. Theragun Pro is designed for long sessions, with extra batteries, but it's obviously done with professional use in mind. When using it on yourself or family members only, you should be careful.
Can You Use Theragun Pro on Neck?
The neck is among the most problematic areas when it comes to massage. Though its muscles need relaxation like any other, it's too easy to affect vertebrae, vessels, nerves, or the throat. So it's recommended to massage only the back of your neck and use the cone head for it. Still, it's better to have someone else take care of your neck if you're not sure.
Should I Buy Theragun Pro?
Attractive as it is, Theragun Pro is too powerful and probably too expensive for personal use only. It's well worth its price, there's no doubt. There are options with shorter battery life, poorer adjustability, not as great torque, and no gimmicks like Bluetooth and a mobile app, but they handle the basic tasks just as well.
But it's definitely the best if you plan to use it on someone else besides yourself or want to use it for professional purposes. No matter which: as an athlete or as a massage professional. Then, a Theragun Pro massager is the best thing you can have.