Prenatal massage is an increasingly popular way to relax and rejuvenate during pregnancy. It can help reduce stress, improve sleep, and ease muscle aches and pains. If you're considering getting a prenatal massage, it's important to understand what to expect. This article will provide a general overview of prenatal massage and what you can expect during a session. From the types of massage available to the potential benefits, you'll have all the information you need to make the most of your massage experience.
Benefits of Prenatal Massage
Physical Benefits
Prenatal massage can help reduce neck and shoulder pain, swelling of the extremities, headaches, and muscle cramps caused by the changes in a pregnant woman's body. It can also reduce stress on weight-bearing joints and improve circulation, helping to reduce fatigue.
Mental Benefits
Prenatal massage can also help to reduce stress, improve mood, and create a sense of relaxation. It can also help to reduce anxiety and depression, and provide an opportunity for the pregnant woman to be in tune with her body. By providing a calming and nurturing environment, prenatal massage can help to improve self-esteem and body image.
Who Can Benefit from Prenatal Massage?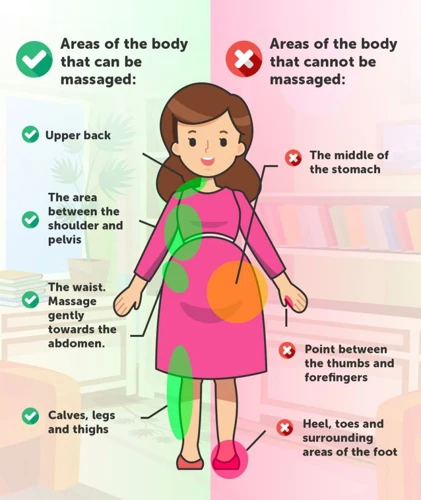 Prenatal massage can bring a wide range of benefits to pregnant women, including relief from aches and pains, improved circulation, and reduced stress and anxiety. It is particularly beneficial for expectant mothers who are experiencing the physical and emotional changes that pregnancy brings.
Women who can benefit from prenatal massage include:
Women experiencing nausea, headaches, back pain, sciatica, and other discomforts associated with pregnancy
Women who have difficulty sleeping
Women who are feeling anxious or depressed
Women who are feeling overwhelmed
Women who are at risk of preterm labor
Prenatal massage can also help reduce edema, or swelling, in the lower legs and feet, and can help increase flexibility and range of motion. This can be beneficial for women who are planning to give birth naturally, as it can help make delivery easier.
What to Expect from a Prenatal Massage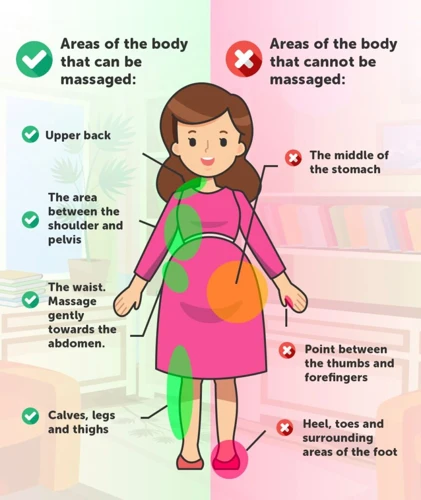 Preparation
Before your massage, you should remove any jewelry or loose clothing and lie down on the massage table. You may be asked to remove all clothing or wear a robe during the massage. Your massage therapist should provide a sheet or blanket to cover you during the massage.
During the Massage
Your massage therapist should use slow, gentle strokes with light pressure to help relieve any tension or discomfort. Your massage therapist may also use hot stones, essential oils, and other massage techniques to help relax and rejuvenate your body.
After the Massage
After the massage, you should feel relaxed and rejuvenated. It is important to drink plenty of water after the massage to help flush any toxins from your body. You may also want to take a warm bath or shower to help soothe your muscles and relax your mind. Your massage therapist may also recommend stretching exercises to help keep your muscles loose and relaxed.
Safety Considerations
Always Consult a Doctor: Before starting any massage treatment, pregnant women should always consult their doctor to make sure that they are healthy enough to receive the massage.
Avoid Certain Areas: Massage therapists should avoid certain areas of the body during a massage, such as the abdomen and lower back, as these areas can be sensitive for pregnant women.
Choose the Right Massage Technique: Massage therapists should select the right massage technique for pregnant women, such as Swedish or deep tissue massage, as these techniques are considered the safest for pregnant women.
Use Safe Products: Massage therapists should only use products that are safe for pregnant women, such as lotions that are free of essential oils and fragrances, as these products can be dangerous for pregnant women.
Types of Massage Techniques Used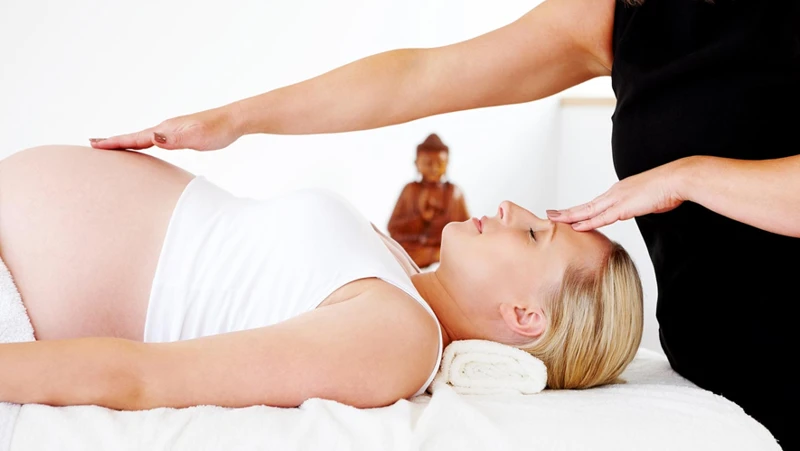 Swedish Massage – This is the most popular type of massage, and the one most often used during prenatal massage. It uses long, flowing strokes to relax the body and reduce tension. The technique may also be used to help reduce nausea, fatigue and muscle cramps.
Deep Tissue Massage – This type of massage works to release tension and pain in the deeper layers of muscle tissue. It is especially beneficial for relieving chronic pain, and can help to target specific areas of discomfort. This technique is not recommended during the first trimester.
Trigger Point Massage – This massage technique is used to release tight spots in the muscles, known as 'trigger points'. The therapist will apply pressure to the trigger points, which can help to reduce pain, improve range of motion and reduce stress.
Sports Massage – This type of massage is beneficial for pregnant women who are physically active, as it can help to reduce muscle tension, improve circulation and improve flexibility. This technique can help to reduce muscle cramps and reduce tightness in the joints.
Reflexology – This massage technique uses pressure points on the hands and feet to stimulate the body's natural healing process. It is believed to be beneficial for reducing stress, improving circulation and helping to reduce nausea.
The Cost of Prenatal Massage
Prenatal massage can range from $50 to $100 or more depending on the length of the session and the massage therapist.
Home visits may be more expensive than traditional massage therapy sessions.
Insurance coverage for prenatal massage may be available depending on the policy and may require a referral from a physician.
Many massage therapists will offer discounts for multiple sessions.
Gift certificates for prenatal massage may be available for purchase from massage therapists.
Prenatal massage can be used in conjunction with other treatments such as chiropractic, acupuncture, and physical therapy.
Some massage therapists offer discounts or special packages for expectant mothers.
Finding a Qualified Prenatal Massage Therapist
Look for a Massage Therapist Who Specializes in Prenatal Massage: Finding a massage therapist who specializes in prenatal massage is key to having a safe and enjoyable experience. The therapist should be trained in the specific techniques needed, such as how to safely position the pregnant woman on the table and what areas of the body to avoid.
Know Your Expectations: Prenatal massage can be a great way to relax and relieve stress, but it is important to have realistic expectations for the experience. Talk to your therapist about what you are looking to achieve from your massage, and let them know if you have any medical conditions or special needs.
Check for Credentials and Reviews: It is important to make sure the massage therapist you are considering is properly certified and licensed. Ask to see proof of credentials, and if possible, read reviews from other clients to get a better idea of the therapist's skill level.
Communicate With Your Therapist: Be sure to communicate openly and honestly with your massage therapist. Let them know if you experience any discomfort or pain during the session, and make sure to discuss any changes in your health or pregnancy that may require special care.
Frequently Asked Questions
What are the Health Benefits of Prenatal Massage?
Reduces stress and anxiety – Prenatal massage helps to reduce stress and anxiety, as well as improve mood and overall wellbeing. It can also reduce the body's production of the stress hormone cortisol.
Reduces pain – Prenatal massage can help to reduce joint pain, back pain, and other types of pain associated with pregnancy. It may also help to reduce headaches and improve sleep.
Promotes relaxation – Prenatal massage can help to relax the body and mind, which can lead to improved mood, energy levels, and overall wellbeing.
Improves circulation – Prenatal massage can help to improve circulation, which can help to reduce swelling, reduce fatigue, and improve overall health.
Relieves muscle tension – Prenatal massage can help to relieve muscle tension, which can help to reduce stress and improve mobility.
Is Prenatal Massage Safe During Pregnancy?
Yes, prenatal massage is generally safe during pregnancy. It can provide numerous benefits for both mom and baby, including:
Reduction in stress, anxiety and depression
Reduction in back and joint pain
Improvement in sleep
Improvement in circulation
Improvement in lymphatic drainage
Relief from muscular tension
Reduction in inflammation
Boosts overall energy levels
A prenatal massage therapist will use techniques that are adapted to a woman's changing body and that are safe for both mother and baby. The therapist may use pillows, bolsters, and other props to support the woman's body and make her more comfortable. The therapist may also use a massage table that can be adjusted to accommodate the woman's growing belly.
What Types of Massage Techniques are Used in Prenatal Massage?
Prenatal massage typically utilizes light to moderate pressure and long, gentle strokes. Common techniques used include effleurage (gliding strokes), petrissage (kneading), tapotement (chopping), and vibration. Specialized techniques may also be employed, such as positional release, myofascial release, and trigger point release, which can help to ease tight muscles and connective tissue. All techniques are tailored to the individual needs of the expecting mother.
What Should I Wear to My Prenatal Massage Appointment?
It is best to wear loose, comfortable clothing to your prenatal massage appointment. Your massage therapist may need to access certain areas of your body, so it is important to wear something that can easily be moved aside. Avoid wearing tight clothing or jewelry that may interfere with the massage. If you are attending a spa, you may be provided with a robe and slippers for your comfort.
How often should I get a prenatal massage during pregnancy?
Most healthcare providers recommend getting a prenatal massage once a month during pregnancy. However, some women may benefit from more frequent visits. If you are experiencing a lot of physical pain or discomfort, it may be beneficial to get a massage more often. Additionally, if you are experiencing stress or anxiety, regular massage can be very helpful. Talk to your healthcare provider to determine the right frequency for you.
It is important to note that some massage therapists specialize in prenatal massage and they may be able to provide more tailored advice.
Conclusion
Prenatal massage can provide many health benefits for both the mother and the baby. It can help to reduce stress, ease physical and emotional tension, and improve overall well-being. Prenatal massage can also help to reduce swelling, improve circulation, and alleviate pain. It is important to discuss any concerns you may have with your massage therapist to ensure the best possible experience. With the right preparation and communication, a prenatal massage can be a relaxing and rejuvenating experience.
References