If you're looking to relieve tension, stiffness, and pain in your Achilles tendon, then learning how to massage it with a massage gun is a great way to do so. This article will teach you the best techniques for maximum relief, so you can get the most out of your massage gun. We'll cover how to properly position your massage gun, the recommended massage speed and pressure, and how often to use a massage gun on your Achilles tendon. With this knowledge, you'll be able to massage your Achilles tendon more effectively and relieve your discomfort.
Benefits of Massaging Achilles Tendon with a Massage Gun
Massage Gun is a powerful and versatile tool for treating muscle pain and improving mobility. It can be used to massage the Achilles tendon, helping to reduce pain and improve range of motion. Here are some of the key benefits of using a massage gun on the Achilles tendon:
Reduction in chronic pain and soreness
Increased flexibility and range of motion
Reduced inflammation
Improved circulation
Reduced muscle tension
Improved mobility
Massage guns can be used to target the Achilles tendon and surrounding muscles, providing deep tissue massage that can help to reduce pain and improve mobility. By applying a massage gun to the Achilles tendon, it can help to reduce muscle tension and improve circulation, which can in turn reduce inflammation and improve range of motion.
Preparing for Massaging Achilles Tendon with a Massage Gun
Positioning and Preparation
Before beginning to massage the Achilles tendon with a massage gun, it is important to make sure that the person is in a comfortable position. Ideally, they should be lying down on their back with the affected leg up on a pillow, or in a seated position with their legs propped up. The person should be wearing loose, comfortable clothing.
Warm Up Exercises
Prior to using a massage gun on the Achilles tendon, it is important to warm up the area with some light stretches and exercises. This helps to loosen the muscles and tendons in the area and can help to prevent injury. Examples of some gentle exercises that can be used include calf raises, heel drops, and ankle circles.
Techniques for Massaging Achilles Tendon with a Massage Gun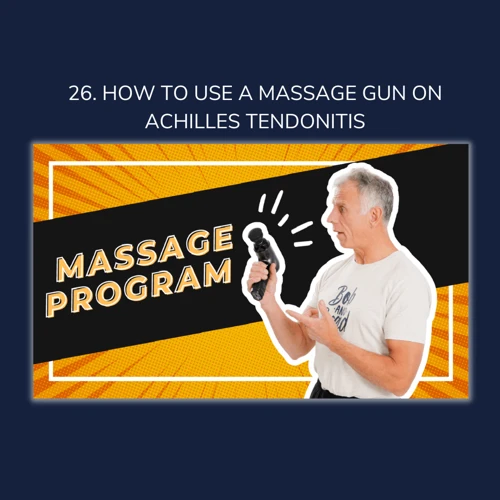 Rolling Technique
Roll your massage gun over the Achilles tendon, using a slow speed and light pressure. This technique helps to increase circulation in the area and reduce tightness.
Pressure Point Technique
Press the massage gun on key pressure points around the Achilles tendon. These points can be found by gently pressing your fingers into the tendon until you find a point of increased tension. Hold the massage gun on these points for 5-10 seconds.
Pulsing Technique
Pulse the massage gun over the Achilles tendon using a medium speed and medium pressure. This helps to loosen any tight spots and reduce muscle tension.
Tips for Maximum Relief and Safety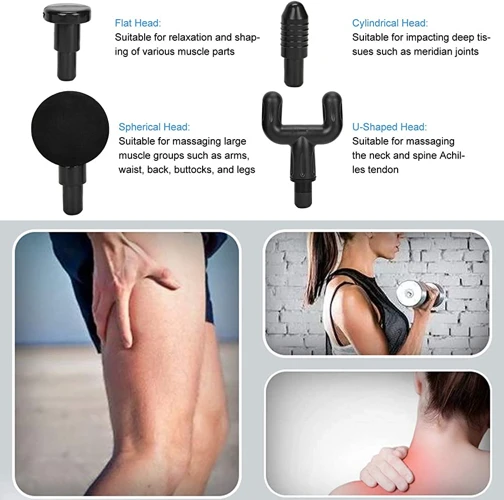 Be Gentle: Massaging the Achilles tendon with a massage gun should be done with light pressure and care. Be sure to gradually increase the pressure to avoid overworking the tendon.
Take Breaks: Take a break if you experience any pain or discomfort while massaging. This will allow your Achilles tendon to rest and avoid overworking or strain.
Be Aware of Posture: Maintaining proper posture while massaging your Achilles tendon can help improve the effectiveness of your massage. Make sure your foot is in a neutral position and your body is well-supported.
Avoid the Heel: When massaging your Achilles tendon, avoid applying too much pressure to the heel of your foot. This area is sensitive and can easily be injured if you are not careful.
Choose the Right Massage Gun: Select a massage gun that is designed for Achilles tendon massage. Make sure it is the right size and has enough power to effectively massage your tendon.
Be Prepared: Before beginning a massage, be sure to have all of the necessary supplies, such as a massage gun, massage oil, and a towel. This will ensure that you have everything you need to effectively massage your Achilles tendon.
Duration of Massage
Short Sessions: Massage sessions with a massage gun should always be short and last no longer than 5 minutes.
Regular Sessions: It is recommended to have regular massage sessions of 3-4 times a week for maximum relief.
Maximum Relief: For those who are looking for maximum relief, the duration of massage can be increased to 10 minutes per session.
Frequently Asked Questions
What type of massage gun is best for Achilles tendon massage?
A massage gun is a great tool for massage therapy and can be especially useful for Achilles tendon massage. When selecting a massage gun for Achilles tendon massage, there are a few features to consider:
Speed Settings: Massage guns with multiple, adjustable speed settings allow you to choose the intensity of the massage. This can help ensure that you are applying the right amount of pressure to the Achilles tendon.
Noise Level: Choose a massage gun that produces minimal noise while in operation. This will help ensure that you don't disturb anyone else in the vicinity.
Head Attachments: Different head attachments are available for massage guns, designed to target specific areas. Look for a massage gun that comes with an attachment specifically designed for Achilles tendon massage.
Battery Life: Select a massage gun that has a long battery life. This will allow you to enjoy the massage with minimal interruptions.
Weight: Select a massage gun that is lightweight and easy to handle for prolonged periods of time.
How Long Should The Massage Last To Get Maximum Relief?
1. Depends on the User: The length of the massage should depend on the user's comfort level and preferences. It can range from a few minutes to up to 20 minutes.
2. Breaks: For maximum relief, take breaks in between. This can help to reduce the soreness and allow the user to get the most out of the massage.
3. Focus on the Problem Area: Spend more time on the problem area, such as the Achilles tendon, and less time on other parts of the body.
4. Increase Intensity Gradually: Start with a light intensity and gradually increase the intensity as the massage progresses. This will help to ensure that the massage is effective and not too intense.
5. Finish with a Cool Down: Finish the massage with a cool down, such as using a cool compress or taking a cold bath. This will help to reduce soreness and promote relaxation.
What are the Potential Side Effects of Achilles Tendon Massage?
Achilles tendon massage can cause some mild discomfort and swelling, as well as soreness and bruising at the site of the massage. Other potential side effects include irritation, nerve damage, and infection. If any of these side effects occur, it is important to stop the massage and seek medical advice.
Are there any contraindications to massaging the Achilles tendon?
Massage guns should be used with caution in those with existing tendinopathies or those with existing inflammation. Additionally, those with open wounds or severe nerve pain should avoid any sort of massage therapy. If in doubt, consult with a medical professional before attempting any massage gun therapy.
What other self-care techniques can be used to help relieve Achilles tendon pain?
Stretching, icing, and rest are essential self-care techniques for helping to reduce Achilles tendon pain. Stretching the Achilles and calf muscles regularly can help reduce tightness and alleviate pain. Icing can help reduce inflammation, while rest helps allow the tendon to heal. Compression can also help reduce swelling and provide support for the tendon. Additionally, certain exercises can help strengthen the tendon, such as calf raises and toe raises. Finally, wearing properly-fitting shoes can help reduce the risk of further injury.
Conclusion
Massaging the Achilles tendon with a massage gun is an effective way to reduce tension and improve mobility. When used correctly, it can provide relief from tightness, pain, and inflammation. It is important to ensure that the massage gun is used with proper technique and that the pressure and speed are adjusted to the individual's needs. Consult with a health professional if the pain persists or worsens.
References
Garrett, M. (2020, August 11). How to Massage Achilles Tendon with a Massage Gun: Learn the Best Techniques for Maximum Relief. Verywell Health.
Lee, S. (2019, June 11). Achilles Tendon Injury: Types, Causes, Symptoms, Treatment, and Prevention. WebMD.
Achilles Tendon. Wikipedia.